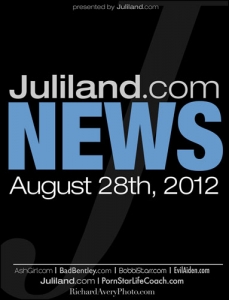 JULILAND NEWS:  The Juliland Universe is so happy to announce the addition of Samantha Bentley and her NEW official Blog BadBentley.com to our large family!  Samantha is one special grrl who caught Richard's eye the first time they met.  Shortly after, he stalked her, bribed her and fell hard for her many nasty ways.  Oh, Dick.
Samantha hails from London, England and has been the finest import since The Beatles, Earl Grey Tea and the Wonka-vator.  As a new member of our crazy Universe, you'll get to read her thoughts and see all of her amazing content shot with our fearless leader, Richard Avery.  We promise that you will not be let down.  So, come back often and enjoy the bad grrl that Samantha is!
Check her out at BadBentley.com.