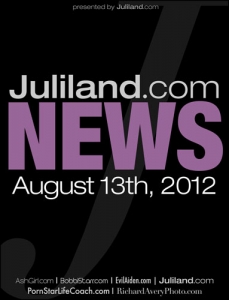 JULILAND NEWS: Welcome the newest addition to our Juliland Universe… As the embodiment of every dark, sinful urge you've ever acted on, Jessica Twisted is as twisted as they come.  In fact, she's so perverse that she claims to have come from the depths of hell.  She explains, "It's hot, but it's a dry heat."  But when Jessica is free from her devilish bounds, she spends her time stripping.  According to her, the best part about her job is the power.  "I love having a room full of men captivated, screaming my name, paying for my company, desperate for a little piece of me. The girls and the money aren't bad either."
The voyeuristic nature of exotic dancing has held Jessica's attention for almost four years now.  After having that much experience within the realm of sex work, she knows exactly who she is, what she enjoys, and what she dislikes.  She tells us, "Fucking is my favorite. Raw, unbridled, carnal sex.  Sex is what I have when I'm bored and want to get off. I hear making love is beautiful sex with emotional connections, but I wouldn't know."  It seems that simple and tamed sexuality is just not for this twisted grrl.  Rather, she keeps herself in the company of "all things dirty and wrong – girls or boys – anything with confidence and a little kink."  No wonder she's found herself a new home in the photographic playground of Juliland.com, in the hands of equally twisted Richard Avery.
Follow Twisted on Twitter or go to her BLOG!